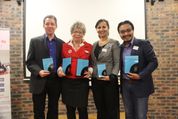 The Division A Fall 2015 Contest was held today, Saturday, October 31, 2015, organized by two of our sister clubs: Toastmasters 75 and Club Expressions. 
Let's see who the all the winners were, who will be going on to Amsterdam in a few short weeks, and especially who is in the Paris Speech Masters Winner's Circle!! 
The Preparation!
The Contestants!
A lot of work went into preparing for these speeches! Here are the Contest Masters and Contestants!

(You can click on the photos to enlarge.)

The Winners!
We are very proud to report that our club had a fabulous day at the Division A Humorous and Table Topics Contests with our members winning FIVE PRIZES out of the 14 available. Yes, over a third or 36 percent of the prizes (for those of us who like numbers). Our members excelled themselves in THREE LANGUAGES: English, French and Spanish.

The full list of winners were:
English Humorous:
1. Carol Bausor, 2. Mark Finneran, 3. Aude Armanini 
English Table Topics:
1. Carol Bausor, 2. David Martin, 3. Shelley Mulon
French Humorous:
1. Stephane Gantzer, 2. Aude Armanini, 3. Alain Petillot 
French Table Topics:
1. Patrick Udwedk, 2. Daniel Kervarec, 3. Albena Gadjanova 
Spanish Humorous: 1. Juan Pablo Chaclan 
Dutch Humorous: 1. Alexandra Dimian
Carol, Juan-Pablo, and Alexandra will be representing Division A in their respective contests at the District 59 Contests on November 13 - 15 in Amsterdam.

Albena gave a very good speech in the French Humorous Contest while Sean competed in both the French Humorous and the French Table Topics.
Thank you to those of you who came yesterday to support us as it was a great comfort to see familiar faces among the 100 Toastmasters and guests.
Join me in giving our encouragement and support to Carol and to Juan-Pablo as they prepare for Amsterdam. I would like both to reach out to us so that they can get feedback and any help needed to improve their speeches.
I know a number of members have signed up to attend the conference so they will have vocal supporters in the audience!
We are truly putting our motto into practice where Good Speakers Become Great.
See you in Amsterdam!
Sean Ryan,
Paris Speech Masters Club President
Many Thanks to our Organizing Team!!