If you'd like to sign up to receive the Paris Speech Masters Newsletter, you can do so here.

By Albena Gadjanova, VP Public Relations
With 28 participants, 16 members and 12 guests, we had an enthousiastic and warm yet studious evening. Marc Yoshikawa, president of Paris Speech Masters, kicked off the meeting by having our 12 guests introduce themselves: Ian Brown (2nd-time guest), Jack and Cynthia from TM Paris, Marie-Françoise, Rachid Labrik, Sylvain, Stéphanie Canovas (2nd-time guest), Sofya, Ismaël Bamba,Siddharth from India, Jean-François/Jeff (2nd-time guest), Moaaz from Syria.
He then invited Shelley Mullon, area A4 governor to announce the area A4 and A5 International Speech and Evaluation Contest on 21st March. Shelley called for quick registration as we have only 40 places available for the four clubs of area A4. "10 euros for a full afternoon of speeches" is really worth of it, she said. For questions and registrations, contact Shelley: shelley.mulon@free.fr.
Shelley also announced that Paris Speech Masters was awarded 50$ by District59 for its best ratio members/education.
Marc Yoshikawa then stepped aside in favour of the Toastmaster of the evening Ciara Halloran who had selected as theme of the meeting: "The Best lessons I Never Learned".
Word of the Day
Alisson Finneran chose discernment : "see and understand people, things and situations clearly and intelligently".
Speech Tip
Juan-Pablo Chaclan shared how to start a speech and have a good introduction by telling a personal story, explaining "why" the subject is important to the speaker, thus creating a relation of trust with the audience.
Joke
Peter Kenton told the incredible anecdote of a talking labrador who was a CIA spy, sold for only 10$ by his owner because "he's a liar that didn't do anything of that stuff".
Prepared speeches
Mark Finneran's speech "Youthful Errors" - project n°6 Vocal Variety from the Competent Communicator manual - was on the irresponsible behaviour of youngsters, vandalising VeloLibs, and the naive Justin in love with Marine for whom he was ready to do everything even procuring marijuana and finding himself in jail. Marine was a cop... a true story.
Sean Ryan presented a project from "The Successful Club Series - 10 - How To Be a Distinguished Club".
Table Topics led by Fabian Nieber on the theme "The Best lessons I Never Learned".
Introducing the TT, Fabian quoted Winston Churchill: "There are two things that are more difficult than making an after-dinner speech: climbing a wall which is leaning toward you and kissing a girl who is leaning away from you."
Heli Aru, gave examples of the way she disobeyed her parents' advice. Karim Awad told us how he ignored a common good advice in restaurant industry. Ian Brown spoke about passion and patience in music answering Fabian's question "One key lesson: patience is a virtue. Why then impatience is a virtue too?"  Rose Burke related her reaction to the boyfriend her teenage daughter brought home and whom she didn't approuve at first.
Evaluations
Albena Gadjanova commended Mark Finneran for the quality of his voice which was friendly, natural, full of vitality, expressive and not monotonous, easily heard and well articulated. His pitch was high expressing Mark's enthousiasm. Well timed pauses and silences. On the contrary, she found that the topic could have been different, calling for more vocal variety which should reflect the thoughts that are presented and where voice could add meaning and interest to the message. Also she suggested to avoid saying "The point I want to make … and to illustrate it I…" and instead go straightforward and just make the point and... illustrate it. 
Carol Bausor pointed out that Sean's speech was exhaustive, full of precision and details. However she found that Sean could have better explain the WHIFM=What's There For Me?, and how the club should feel involved and impacted.
Ash Brown wrapped up the meeting as general evaluator, making a bunch of specific observations on the two evaluators. Ash suggested that we could applause a bit more and observed that two of our newest members, Pablo and Alisson, had held their first roles. Well done, Ash!
Ribbon Winners 
Best Speaker: Mark Finneran
Best Evaluator:  Albena Gadjanova
Best Table Topics:  Karim Awad
Ciara Halloran, Toatsmaster of the meeting,
distributed the Award Ribbons at the end of the meeting.
By Mark Finneran, General Evaluator of the meeting, and Albena Gadjanova, VP Public Relations


With thirty-six participants we had an energetic and vibrant crowd that contributed to a fun and educational evening for all. Marc Yoshikawa, president of Paris Speech Masters, kicked off the meeting by having our 17 guests introduce themselves.
As Toastmaster of the evening Fabian Nieber selected the theme "the Head and the Heart" because as he put it, "these 2 worthy adversaries, the head (our logic) and the heart (our emotions, or gut feeling), are often in opposition when we need to make difficult decisions. Over the course of the evening all speakers were given the chance to provide insights into when they tend to listen to their head and when they tend to listen to their heart.
Word of the Day by Sean Ryan
Speech Tip by Julien Clément
Toast and prepared speech n°1
Albena Gadjanova gave a combination of a heartwarming speech - project n°1 "Mastering the toast" from the Advanced Manual Special Occasion Speeches - and the toast of the evening. Before jumping litterally into her toast, she explained the custom of giving a toast dating back to ancient Rome and Greece; while the English gave them on bended knee and Scotsmen stood on chairs and put one foot on the table, the French brought civility  to the custom with a bow. In her toast-speech, dedicated neither to a special occasion, nor to a person, but to the Heart, Albena told us that parents, with our best interest in mind, often advise us to listen to reason, but the best choices come from listening to our hearts.
Prepared Speeches n°2 and n°3
Susanne Kischnick presented a project "The Folk Tale" from the Advanced Manual Storytelling. Susan, who is very passionate about folk tales, told us the old German version of Brothers Grimm fairy tale, "The Frog Prince". Suzanne's objective was to tell a folk tale that is entertaining and enjoyable for a specific age group. Before starting, Fabian relayed Suzanne's request that we all take on the personas of curious 5 year olds ready for a bedtime story.
Richard Rheindorf's speech  "The Surprising Cause of Cardiovascular Diseases" was for a project from the Advanced Manual "Persuasively Speaking, Addressing the Opposition". Richard's objectives were to present a talk on a controversial subject; persuade the audience to accept or at least consider the viewpoint; appeal to the audience's logic and emotions. Fabian noted that these objectives tied in nicely to the theme of the evening!
Table Topics led by Heli Aru
In Fabian's introduction of Heli Aru, Table Topic Master, he explained that Heli tries to find a balance between head and heart to keep her on the right track in longer perspective. Just listening to one's heart, Heli explains may get you into trouble just easily as doing only rationally calculated choices. Heli also shared a quote by Eleanor Roosevelt -"To handle yourself, use your head; to handle others, use your heart."
Heli based her table topic questions on the theme of the evening "using the head or the heart" to make small and large decisions ranging from making impulse purchases to major life decisions concerning career choices and romance.  Five people were able to participate in the table topics: Natalie Cernecka, Ciara Halloran, Francisca Perez-Cocomina, Peter Kenton and Elaine Rothman. Peter, never ceasing to surprise us, shared a tale from his life in Paris as a young man. He concluded by saying at least once in a lifetime everybody should make a major decision for a love. The climax of the table topics section came when Ciara invited us all to go on vacation with her!
Evaluations
In Antoinio Meza's evaluation of Albena Gadjanova's speech he praised her mind, because it helped her to speak about her heart!  Antonio felt that Albena spoke warmly and friendly to the audience, she developed her point of view by citing personal stories and she explained the history of the tradition of "the toast". 
Carol Bausor began her evaluation of Susanne's reading of "The Frog Prince" by telling her own fairy story about ... Susanne giving another speech in a beautiful red dress! That speech was in German but the meaning shone through (even for non-German speakers!) She commended Susanne's delivery in terms of voice range and earnest eye contact. Carol felt that the sitting down posture did not best lend itself to commanding attention, and recommended using rhetorical questions to gain the listeners' interest: "And .... what do you think she found in the well ....?"  Carol would have liked to hear different voices for each of the main characters. The story is unusual in that fairy story princesses are normally the heroine of the story, whereas this princess is really .... not very nice!
Karim Awad was impressed by the way Richard Rheindorf used reason and passion to develop his arguments. Karim said it was both precise and risky: carefully constructed but with occasional interactions with the audience that could have easily led us astray. Karim was also inspired by the way Richard managed to slowly bring us to a surprising conclusion based on a little known anecdote and achieved the main objective of his speech: to make us consider a different point of view.
Mark Finneran, wrapped up the meeting as general evaluator.
Ribbon Winners 
Best Speaker: Richard Rheindorf
Best Evaluator:  Carol Bausor
Best Table Topics:  Ciara Halloran
By Albena Gadjanova, VP Public Relations

We had 28 attendees at this meeting: 14 guests and 14 members. The meeting started with Marc Yoshikawa, president of Paris Speech Masters, introducing the Toastmaster Peter Kenton, a "genial host" because... "I have to be genial", Peter said. The theme of the meeting was Groundhog Day and Peter explained why he chose it and introduced the guests: Christophe Lancelot, Laurence Breuillac, Alison Finneran, Ariel Danski (visiting TM from South Florida), Rebecca Buechel, Ian Brown (TM from London), Catherine Philippe (from TM of Paris), Francis Colomina, Juan Pablo Chaclan, Marie-Françoise Caussin, Elaine Rothman, Frédérique Lafontaine, Rachid Labrik, Antoine Lortie.
Toast
Mark Finneran followed with a toast to actor Bill Murray, in the spirit of the theme of the evening Groundhog Day.
Word of the Day
Fabian Nieber gave us the word of the day: "superstition". He explained his role and the meaning of the word - excessively credible belief, irrational - and gave an example: "She touched a locket for luck; since then she had a baby". 
Speech Tip
David Logan's tips were about how to get rid of filler words (the hum's). When you hesitate, use a pause, he said. And make sure your speech is of correct length. Haste make for waste. Be seemlessly smooth.
Prepared Speeches
Julien Clement gave his first speech as a Toastmaster, the Ice Breaker. He described his main goal in life: to be remembered! Julien shared his progress towards this goal, from being a shy teenager who had "school-o-phobia", to being a PhD student who tries to share his work and passion with others. He will have many occasions to make speeches in his professional life, and he hopes TM can help him make them memorable.
Rose Marie Burke gave her first advanced speech from the Specialty speech manual, Project 4, « Read Out Loud. » All in keeping with the project, she introduced the novel she read an excerpt out loud. In this speech project, there is no need to memorize the material and Rose read from the written word a chapter from a remarkable new novel entitled « Tita, » about an 8-year-old French girl growing up in the south of France in the late 1950s. The book was written by a French friend of Rose, Marie Houzelle who has always written in English. Curiously enough she was also raised in the south of France in Toulouse.Tita is the girl version of Le Petit Nicolas. She is precocious, stubborn, a difficult eater, and is discovering her voice and the world around her. At the same time, traditional France is starting to break away too. 
Karim Awad gave a speech, project #3 from the CC manual "Are we greedy? Are we bad?" In the wake of the financial crisis, it would seem easy to answer yes but a growing body of research unveils the hidden truth about our natural tendencies for cooperation. Though a superficial glance at Darwinian theory could convince you that greed makes sense as part of the "law of the jungle", research has shown, through the concept of mirror neurons, that we are actually hardwired to feel empathy for our fellow man. Additional data on the Ultimatum Game also sheds light on our natural tendency to treat people fairly in basic economic transactions. This research spurs us to rethink man's natural human tendencies and come to the conclusion that he isn't really bad to the bone.
Table Topics
Ash Brown stepped up as Table Topics Master and engaged an entertaining session inspired by different wheather related phenomena. We had 5 speakers. Mark Finneran spoke about whether he considered repeating the same thing is a curse or a gift. Feeling becoming better, more professional is certainly a gift he said while not feeling challenged is a curse. Rebecca Buechel had then to answer the following: winter can be long and hard, why should we celebrate it then? Nice to reflect on, especially for a Californian who is still working on enjoying winter and would prefer a bottle of wine and a nice meal to stay at home rather than going outside. For Ciara Halloran, her coldest winter storm was when she was in college, on the US East coast, when she decided that it's important to persevere regardless the weather. Laurence Breuillac had to predict the weather for the next 6 weeks: windy days... hoping spring will come soon. Heli Aru had to speak about the way she broke her legs skiing...instead she said that the best medecine is a combination of swimming, sauna and skiing.
Speech Evaluations
Ciara Halloran then evaluated Rose's speech: excellent introduction that gave an enticed interest, related to a book Le Petit Nicolas, commended Rose on her wonderful delivery of the innocence of a child, excellent eye contact even though it was a reading project and seemless moving from one page to another. Rose's voice tone moved in various modes of vocal variety. Suggestions for going further on, on a higher level: attenton to the style of delivery as this is a 7-year old girl, slower, more pauses; age of discovery and innonce - play more with that. Sean said that Julien's IceBreaker was excellent, meeting the ojectives of this speech project; the description of the shy 13-year old boy hating going to school and doctor Richard helped learn a lot about Julien who used a lot of speaking techniques: no notes, pauses, jokes, humour, gestures, careful listening. Susanne Kischnick liked the way Karim started his speech with a question "Are we bad by nature?", his humor and the fact that Karim answered his own question in 3 points: Darwin, neurones, managing nervousness.
Fabian Nieber followed with the wordmaster and grammarian report, pointing out some beautiful expressions used during the meeting such as "butterfly flying information" (Peter Kenton), "to err is human" (David Logan), "the difficult we do immediately, the impossible takes a little longer" (David Logan), "school-o-phobia" (Julien Clement) for which there is a synonym: didascalonia. He concluded by a phrase, he found a bit strange "the French are the most skiing people in the world" (Ash Brown).
General evaluation

The meeting closed with Ian Brown, a guest, experienced TM from London who was our General evaluator. Ian suggested that we could applaud a bit more! He commended Fabian Nieber for his keen ear as grammarian and his meticulous description of his role and pointed out that Fabian could have prefer not to read the definition of the Word of the Day. Ian found that keeping it personal is a very good tip, exactly as David Logan did it. He then recommended Rebecca not to cross her arms and legs which is quite defensive. "Don't look down while thinking", he said about the Ciara Halloran presented her Table Topic. He underlined the enthousiasm and sincerity of Sean Ryan's evaluation and the "scientific" structural approach of Susanne Kischnick's evaluation reminding at the end the CRC method that evaluators can use: Comment - Recommend - Comment.
Ribbon Winners
Best Table Topics: Mark Finneran
Best Evaluator: Sean Ryan
Best Speaker: Julien Clement
Peter Kenton gave out the awards and asked for guest feedback before handing back to Marc Yoshikawa to close the meeting.
By Ciara Halloran, General Evaluator

The meeting started at 8.00 with Marc Yoshikawa as president introducing the Toastmaster Rose Burke.The theme for the meeting was commitment and Rose explained why she chose it and introduced the guests: Christophe Lancelot, Laurence Breuillac, Alison Finneran, Marie-Françoise Caussin and Juan Pablo Chaclan. Rose carried out an induction ceremony to welcome the new 5 club members who joined the club recently: Julien, Karim, Richard, Suzanne and Ciara.  She introduced each new member giving a short background and then led the new members in a commitment ceremony where they stated their commitment to the club and Toastmasters. Club members were also engaged to make a commitment to the new club members to help in their growth and club experience.
Toast
Ash Brown followed with a toast to puppies and told us her story as a child wishing and begging her parents for a puppy.
Word of the Day
Fabian Nieber gave us the word of the day: ". He explained his role and the meaning of the word using it in sentences such as to "engage the gear of a car" and to "engage in a fight".
Speech Tip
Marc Yoshikawa gave us the speech tip PREP to help us with speech construction. PREP stands for:
Point – what do you think about a topic
Reason – Why do you think it / selling the idea
Example – give an example or tell a story to illustrate
Point – conclude and wrap up linking to the beginning and subject/topic again
We then went into the speech portion of the evening with Rose Marie Burke introducing and bridging between speakers.
Prepared Speeches
In his third speech from the Interpersonal Communication manual "Defusing Verbal Criticism", Sean Ryan began by saying that we face verbal criticism every day from loved ones, friends, colleagues and even complete strangers. Most of us have a natural inclination to do one of three negative responses: withdraw, rationalize (agreeing with the person) or even counterattack. But there is a positive way to maintain self-esteem, respect for each other and even solve the issue. Sean shared five techniques that we can use: listen with an open mind, acknowledge and recognize the criticism, ask questions of the other person, paraphrase in one's own words and agree if the person is telling the obvious truth. He then did a role play to use the techniques with Bob Mohl acting as a client criticizing Sean's work. The audience was able to give feedback during a facilitated discussion.
Fabian Nieber gave his first speech at our club and his second speech in the advanced manual Humorously Speaking (the Humorous Speech). Titled 'With Friends Like These...' Fabian introduced us to his French friend Pierre, who will later find out is in fact his dog! We found out through the speech that Pierre is expensive, filthy and manipulative, and with friends like these, who needs enemies? The speech attempted to communicate, through exaggeration, a funny series of events involving dog grooming, personal hygiene and house training, topics not for the squeamish!
Carol Bausor gave her last speech towards her Advanced Communicator Silver award: from the Advanced Manual Interpretative Reading, Project "The Monodrama". A monodrama can be a poem or a soliloquy, in all cases only one person is speaking, either to themselves or to an unseen audience. Carol chose to read a text originally performed by the English comedian Joyce Grenfell "The Free Activity Period" in which she "became" a harassed Nursery school teacher, on a day when she is being inspected by a Mrs Hingle, and whilst she attempts to explain the benefits of the "Free Activity Period" on the children's creativity and self-expression, they choose to ... express themselves by wreaking mayhem. It was a highly theatrical project and one that she obviously really enjoyed performing.
We had a 5mins break then.
Table Topics
Julien Clement stepped up for his first role as table Topicsmaster and engaged is an entertaining session on commitment. We had 3 speakers. Marie-Françoise Caussin spoke about how she felt about commitment and linked to the commitment a volunteer makes and called on all of us to commit to a better and more sustainable environment. Alison Finneran delighted us in a story of her conundrum to commit to paying for her to study abroad as it is something she really wanted but took commitment to achieve on her part. Christophe Lancelot told us about his unfortunate story of committing to the Swiss Franc which turned out to be a bad investment and a learning experience. Juan Pablo Cachlan was asked whether he believed in the commitment made by companies to sustainability. He had a clear opinion: companies make fake commitments to make themselves look good in the eyes of the public.
Speech Evaluations
Rose Marie Burke then moved us into the evaluation part of the meeting starting with Antonio Meza who evaluated Sean's speech. Antonio started with – "Are you ready for some criticisms?" and read out the objectives Sean was to achieve. He gave Sean good constructive feedback and suggestions referring to having 5 points and making them clearer for impact. Jean Delaunay who evaluated Fabian then followed. He touched on the suspense Fabian built throughout his speech but particularly in the beginning when he started to tell us his story which had the twist of being about his beloved dog. Fabian had the audience enthralled as he told us how manipulative his beloved dog Pierre learned to be and how he forgave him with the look on his face and asked the audience if we too would forgive such a lovely dog staring and asking for forgiveness. The audience was wowed by both Fabian and Pierre so the answer was YES. Mark Finneran evaluated Carole's speech and explained to the audience what was atypical about the project and the objectives Carole was to achieve. The monodrama Carole gave painted a real and true picture and Mark explained what was unique and different about Carole's delivery. He explained that the use of eye contact is not a requirement for this project which was helpful to the audience and his recommendation to Carole was to build to a bigger climax in the monodrama. It was a well-chosen piece for this project.  
David Logan followed with the wordmaster report – word used at least 4 times.
Karim Awad did an excellent and quick, as we were tight on time at this point, timer's report giving everyone their red and yellow cards for timekeeping on the night.
General evaluation
The meeting closed with Ciara Halloran as General evaluator who suggested that the sergeant at arms be named on the agenda so everyone is aware who to go to for assistance with props etc.  She also recommended that introductions to speakers and meeting roles think about setting the stage for the next speaker to follow for example if it's a humorous speech tell us something humorous about the speaker, tell a joke and make the audience laugh thus warming up the audience for the speaker.
Ribbon Winners
Best Table Topics: Juan Pablo Cachlan
Best Evaluator: Mark Finneran
Best Speaker: Carol Bausor
Rose Marie Burke gave out the awards and asked for guest feedback before handing back to Marc Yoshikawa to close the meeting.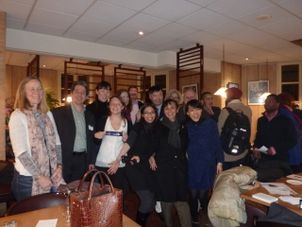 By Albena Gadjanova, Vice President Public Relations and General Evaluator of the meeting
Our President, Marc Yoshikawa, opened a festive New Year's meeting in our new venue at Monte Carlo restaurant, close to Etoile. He introduced our 14 guests who came from all over the world: Japan, Syria, USA, Spain... and France. Our Toastmaster of the Evening, Sean Ryan, chose as a theme of the evening "Fireworks", a magnificent symbol of joyful and explosive celebration erasing the sadness of the last year ending Sean said.
Julien Clement gave the very first, enthousiastic toast of the year about our lists of resolutions and the things we would like to change and also about the things that we'd like... to keep the same. As for example being open and being stuck in a community at the same time. Keeping both, the thirst for change and the constancy, produces real fireworks in one's life.
Word of the Day
Marc Yoshikawa chose "serendipity" as the word of the day, or serendipitous meaning auspicious, bringing chance. 
Speech Tip
Inspired by a TM member Florian Mueck's book "PlusPlus", Rose Marie Burke presented several ways to start a speech with a bang: begin with a colourful word, quotation, question or personal anecdote. To grab attention, use fireworks, she concluded.
Prepared Speeches
Our first speaker Mark Finneran presented his project #5 "Your Body Speaks" from the CC manual, "One Immigrant's Story". On the 15th of December, François Hollande inaugurated the Museum for the History of Immigration in Paris. The museum actually opened seven years ago, but without a formal inauguration by then-President Nicolas Sarkozy. On this occasion Hollande spoke of the benefits of immigration and urged the French not to give in to "scaremongers and prophets of doom, who dream of a smaller, spiteful, retreating France – a France that is no longer France." Inspired by Hollande's call, in his speech, Mark gave his personal account of "One Immigrant's Story".
The speech of our second speaker "Nobody can be uncheered with a baloon" (#6 "Vocal Variety" from the CC manual), Heli Aru, was inspired by Winnie the Pooh story which Heli re-discovered recently while looking for stories to read to her baby son. Besides being a very loveable bear adored by children, Winnie the Pooh's wins adults' hearts too with his clear-eyed wisdom. Heli's speech reminded us that little things in life matter like giving a gift to gloomy Eeyore on his birthday. 
Third speaker Ash Brown helped raise our knowledge on UX design with her speech "User Experience? What's That? (#4 "How to say it" in the CC Manual). Ash explained the basics while recalling her recent trip where she met Courtney, a woman in publishing who didn't know what User Experience was. Learn not in 11-hours, like Courtney, or even 11 minutes, what User Experience is, what the difference between a good and bad experience is and even how UX can mean the difference between life and death when you fly!
Table Topics
Inspired by our "fireworks" evening theme, Jean Delaunay's questions were particularly colourful and explosive. Seiko Hoshikawa aswered the first one "Which colour of the Japanese flag would you choose to put on fireworks?" Blue, she said, because of France, otherwise her favourite one was green. Marie-Françoise Caussin then had to answer the following "Many big cities have fireworks in New Year's eve. How do you explain that fancy which marks after all the irrevocable passing of time?". This releases our nerves, was the answer. Alison Finneran said that as a child the first time when she saw fireworks she was scared by the noise but after all she loves them. Finally, Francesca said that yes, definitely she would spend money to enjoy a meal at Fouquet's.
Speech Evaluations
Rose Marie Burke appreciated the body language of Mark, the way he occupied space and for her his speech achieved  the objective of CC#5. While Heli really modulated a lot her voice, which was the goal of her CC#6, Bob Mohl found that she could play even more with caracters' voices and sizes, vary the rate and make more pauses. David Logan who evaluated Ash's speech, praised her skill to present a technical subject "clearly, accurately and vividly" using some rhetorical devices as snippets ans "easy as a pie".
General Evalution
Albena Gadjanova led a discussion on the choice of the venue which was approved by the audience (besides some lights at the back which were a bit disturbing) and the change in the agenda (eating before and no pause). Some members and guests felt that it would be better to have a 5' pause. She urged evaluators to be more creative in their conclusions and to avoid the trivial "I'm looking forward to your next speech".
And though Albena is not a fireworks addict because of their high cost, she congratulated Sean for the perfect organisation of the meeting and his habitual enthousiasm.
Ribbon Winners
Best Table Topics: Alison Finneran
Best Evaluator: Bob Mohl
Best Speaker: Ash Brown
And to conclude the meeting, President Marc Yoshikawa thanked everyone for such a serendipitious and explosive meeting with a wonderful bunch of guests.
By Rose-Marie Burke, Vice President Membership (general evaluator of the evening) and Albena Gadjanova, Vice President Public Relations
Our President, Marc Yoshikawa, donning a Santa hat, opened our festive Christmas meeting. He introduced our eight guests who came from all corners of the world: the U.K., Germany, The Netherlands, and Japan, and not to forget, Paris. Our first-time Toastmaster of the Evening, Mark Finneran, who credited Charles Dickens, author of "The Christmas Carol" as the real Father Christmas who created the notion of Christmas spirit and goodwill. He gave the podium to Songmaster of the Evening, David Logan, who led us in a specially written carol for the evening (to the tune of We Three Kings): "Speech Masters Of Paris We Are."
Word of the Day
New member Julien Clement, picked "resplendent" as the word of the day, recounting how he had been searching for synonyms for the overued word "beautiful."
Speech Tip
DTM Dominique Carrasco, who recently won the District 59 English-language Humorous Speech Contest in Lyon, shared with us how he developed his speech that took the prize, which featured a ukulele! The Frenchman said he was daunted about competing with native speakers, and thought his best chance might lie in using a prop. When a friend told him that he recently purchased a ukelele, Dominque knew he had found his prop. That didn't stop this advanced Toastmaster to go back to his Competent Communicator manual, making sure he covered all the basics—a tip worth remembering.
Prepared Speeches
Our first speaker was CC Albena Gadjanova, VP Public Relations, who was working on her first speech in the Communicating on Video manuel, "Straight Talk." Her job was to deliver a short 3-minute TV spot which she dedicated to a Chinese Canadian entrepreneur, Bruce Poon Tip, who created one of the most successful ever independent travel companies. He reveals the secrets of his success in his recently published book "Looptail", an intelligent mixture of DREAM, PASSION and VISION.
The second speaker, ACB/ALB Ciara Halloran, gave her first speech at our club with a speech entitled "A Bright Lights Christmas". She is working from the advanced manual storytelling and this was project 4 the objective of which was to arouse emotion. Beginning by evoking the emotions of sadness, loneliness and empathy through her story of her first Christmas away from home and family, she went on to tell us about a new Christmas tradition she discovered with friends when she lived in Vancouver, Canada. The speech culminated in drawing happy, joyful and inspirational emotions as she described her visit to the Vancouver gardens and their Christmas lights display and festive show, a truly touching speech and story.
CC David Logan gave us an 'After dinner speech' (Project 5 in the AC Series; Entertaining Speaker Manual), after dinner! Three old friends and Toastmasters had such a good time at their club's Christmas gala night that they had perhaps a little too much Christmas cheer. There was a crash! Mr Rosenstein, an antique dealer and collector of ancient  pink marble statues lost his marbles. Rosemary Sage, an ailing herbalist finally ran out of time, and Chip Oakwood, a local cabinet maker missed his plane. They really had a smashing Christmas! With that speech, David earned his Advanced Communicator Bronze! Congratulations David!
Table Topics
Sean Ryan prepared holiday themes for partipants. Susanne Meza, pretending to be a leader of turkeys, had to give the birds a pep talk. Karim Awad talked about the importance of a white Christmas. Richard Rheindorf played a reindeer who had to convince Santa to choose him to lead the slay, as Rudolf had come down with a bad cold. Ash Brown had to defend her choice of career in promoting Christmas all the time.
Speech Evaluations
Ash Brown, in her evaluation of Albena's speech, appreciated the passion that she brings to everything she does. Fabian Nieber, in evaluating Ciara's speech, examined how she built emotion into the speech, and talked about various techniques for doing so : through setting, characters, and conflict, and using all of the senses to obtain gut-wrenching emotion. Bob Mohl, who evaluated David's speech, lauded his word play and ever-present use of puns.
General Evalution
Rose Marie Burke called it a splendid and respendid meeting indeed. She praised how speakers worked in the theme, and echoed and made reference to other speakers, which gives a meeting a sense of unity and coherence. In the spirit of Christmas, she was hesitant to find even one fault in the evening!
Ribbon Winners
Best Table Topics: Ash Brown
Best Evaluator: Fabian Nieber
Best Speaker: David Logan
And to conclude the meeting, President Marc Yoshikawa and his elves thanked everyone for such a splendid meeting, resplendent in its warm colors and good cheer! O come all ye faithful to the next meeting on Jan. 5, 2015, at a new venue, the Monte Carlo! Happy New Year!
By Albena Gadjanova, Vice President Public Relations and Ash Brow, Sergeant-At-Arms (general evaluator of the evening)
Our President, Marc Yoshikawa, welcomed our guests (10 of them!) before handing over to our genial Toastmaster of the Evening David Logan, who introduced the program and the theme of the evening "Advent", which means the arrival of a notable person or thing. The evening was indeed a notable arrival of fantastic guests! Their enthusiasm and participation in the evening brought joy to the chilly, suddenly winter, evening. David confidently explained the evening's proceedings, and called on Karolin Frizzi Krüger to tell us a joke or give us a toast (or both). Karolin chose to simply distribute Christmas cookies.
Word of the Evening
Mark Finneran chose "Secular" which is the opposite of religious (laïc in French).
Speech Tip
Jean Delaunay pointed out the danger of copy-pasting texts from different sources while preparing a speech. It's much better to use one's own words and style.
Prepared Speeches
Our guests, along with all members, enjoyed a speech by Rose-Marie Burke entitled "Women! Speak up!" (Competent Communication Manual #10 - Inspire Your Audience). This speech was so inspiring that members referred to it throughout the evening and more than half of Table Topics participants referenced it as a source of inspiration! In her speech, Rose-Marie shared some startling new research just published this year in the U.S. showing how society continues to disregard and even stifle women's voices. To remedy the situation, she asked men to refrain from interrupting women and give them more "air time." And inspired women to dare to speak up and find ways to make their voices heard. Now if only Toastmasters would challenge itself to develop more woman power. Only four female World Champions of Public Speaking in the past 90 years? Women, one-half of humanity, need to be seen and heard for the human race to make real progress.
The evening was then graced by uplifting and humorous speeches by advanced communicators Antonio Meza and Marc Yoshikawa.
In his speech entitled "Kak dela?" (Storytelling Advanced Manual #4 - The Touching Story), Antonio spoke about being a teenager in Mexico and developing a friendship with Konstantin, a boy from Ukraine. They learnt each other's language and Antonio learnt about Konstantin's happy stubbornness that helped him thrive. Later in his life, Antonio learnt to appreciate even more Konstantin's happy stubbornness as he tried to make his life in a new country.
Marc Yoshikawa then told a dramatic story, "The Moment of Truth" (The Entertaining Speaker Advanced Manual #4 – A Dramatic Talk), about starting years ago a real estate development business in California teamed up with his friends, Salvatore, Robert and Yuri (Italian, Chinese and Russian American, Marc himself Japanese). One day, millions of dollars of the company disappeared, and Mark was regarded as the culprit by a magnate (Shadow Shogun) of the local community. He pointed a gun at him and demanded, "Where's the money!" It was the moment of truth! Marc was petrified, with tears in his eyes, he said, "I know nothing about this, I didn't steel the money!" Then people rushed to the room saying "Surprise!" It was a practical joke, alas. They staged a surprise party to celebrate Marc's birthday. The moment of truth told him that he was a gullible, goofy goose!
Table Topics
Bob Mohl led a session on impromptu speaking, with the help of a particularly original advent calendar invented by himself: every speaker had to open a tab hiding a picture which was to inspire the subject of his/her table topic referring to the past.
Bob first called upon Susanne Meza who described her graduation day, skillfully slipping to a presentation of her business today as a professional photographer. Karim Awad talked about creating of a business related to nurseries in order to appeal to women. Janette Six made a hilarious speech about stains on her trousers and kitchen window, and her addictiveness to hot chocolate in the middle of the night. Eric Egounlety spoke about cats and dogs even if he admitted not to be a big fan of animals but having nevertheless respect for them. Julien Clement talked about his 3-year study period in Rotterdam driving a beautiful yellow Fiat which made the others assuming that he's a French drug consumer. Arabella Edwards spoke about 'lost and found" section in a nice scenery landscape.
Speech Evaluations
Marie Gaynor complimented Rose-Marie Burke on her inspirational speech.
Albena Gadjanova congratulated Anotonio for his vivid speech, art of storytelling and perfect pace, and pointed out several improvements such as showing instead of telling and better fitting to the specific objective assigned by the manuals to every speech project. She expected to feel arousing in her emotions provoked by Antonio's speech – as was the objective of this speech project - while finally she felt it was more like a humorous speech than a touching story.
Peter Kenton appraised the highly dramatic suspense that Marc achieved to create with his speech.
General Evaluation
Ash Brown made a very detailed report and was particularly impressed by the impact of Rose's speech to which many referred during table topics and evaluations.
Ribbon Winners
Best Table Topics: Our notable guest Karim Awad won Table Topics for the second meeting in a row.
Best Evaluator: Marie Gaynor and Albena Gadjanova 
Best Speaker: Rose-Marie Burke
And to conclude we all cheered club member Bob Mohl once more for his 3rd place finish at the Division level for the Humorous Speech Contest.
By Albena Gadjanova, Vice President Public Relations
Mark Yoshikawa, Club President, welcomed members and the 7 guests to the meeting and as Toastmaster of the Evening he also announced the theme of the meeting: " The Best Years Are Yet To Come!"
Word of the Evening
Rose Marie Burke chose "Optimist, Optimistic". Optimist says we live in the best possible world. Pessimist is afraid he's right.
Speech Tip
David Logan pointed out the importance of timing and not to runover. If you have to speak for 7 minutes, this means your text should not contain more than 700 words. This is a good average to start a script.
Prepared Speeches
Ash Brown's speech, #3 from the CC manual, "Do you want to be healthy, wealthy and wise?" Who doesn't? Then try the yoga way! With the 900+ physical postures of yoga you will build strength of body to bring health, clarity of mind so you appreciate your wealth and calm of mind and body to cultivate wisdom. Healthy, wealthy and wise - the yoga way!
Bob Mohl practiced a new humorous speech he may use at the Division Contest on November 15. It's called "Stranger in a Strange Land" and describes the adventures as an American in Paris learning French.
Jean Delaunay is working on the Technical Presentations advanced communication manual. His #3 speech project entitled "The Golden Ratio" was about a number remarkable by its properties, and its wide occurrence in man-made and natural structures. The Fibonacci sequence is defined. Many flowers have a Fibonacci number of petals. The Golden Ratio is calculated starting from the Fibonacci sequence. Many famous monuments have been built based on the Golden Ratio; example: the Pyramids. The Golden Spiral, related to the Golden Ratio, is presented. The Nautilus shell, the vortex of a hurricane, the whirls of some galaxies fit a Golden Spiral. The Golden Ratio is one of the most awe-inspiring of all numbers.
Table Topics
Fabian Nieber led a session on impromptu speaking, related to…, and called upon Shelley Holubek who described how her life will be better in one year because she intends to join the "Sitting Kills" movement by moving more and sitting less; Nita Wiggins who said with 30 extra minutes a day, she devote the time to learning more nuance in her French language skills; Julien Clement who announced that if he could move to any country, he'd pick an English speaking one, namely Canada; Tamara Messenger who said she would grow within herself and become the person she wants to become, like Buddha and, finally, Rose Marie Burke who was too optimistic to accept the idea that the best years are not ahead, so she cited her husband's attitude towards global warming. His professional research confirms that it's coming, but he still leaves the lights on.

Speech Evaluations
Mark Finneran complimented Bob Mohl on his talent as a storyteller with a very honed sense of humour. In her evaluation of Ash's speech, Karolin Frizzi Krüger underlined with enthousiasm the super delivery of Ash and the relevant choice of the subject: yoga. Albena Gadjanova congratulated Jean for his inspiring speech and pointed out several improvements such as better connecting to the audience and getting it more involved as this was one of the objectives of #3 Technical Presentations.
General Evaluation
Peter Kenton was particularly attentive to audience's feedback and suggestions for improvement.
Ribbon Winners
Best Table Topics: Shelley Holubek
Best Evaluator: Karolin Frizzi Krüger 
Best Speaker: Ash Brown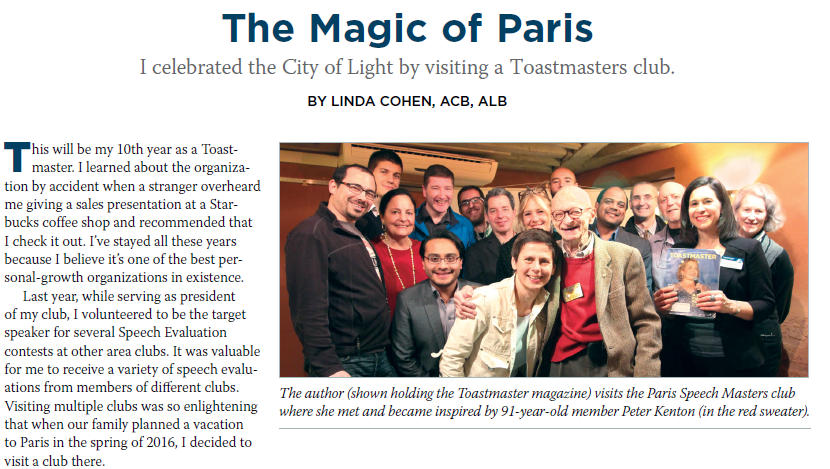 The Magic of Paris
I celebrated the City of Light by visiting a Toastmasters club.
By Linda Cohen, ACB, ALB
This will be my 10th year as a Toastmaster. I learned about the organization by accident when a stranger overheard me giving a sales presentation at a Starbucks coffee shop and recommended that I check it out. I've stayed all these years ­because I believe it's one of the best personal-growth organizations in existence. 
Last year, while serving as president of my club, I volunteered to be the target speaker for several Speech Evaluation contests at other area clubs. It was valuable for me to receive a variety of speech evaluations from members of different clubs. Visiting multiple clubs was so enlightening that when our family planned a vacation to Paris in the spring of 2016, I decided to visit a club there. 
Paris has several English-speaking clubs. I contacted two and realized one was within walking distance of the apartment we had rented near the Pompidou Center. The meeting of the Paris Speech Masters took place at a lovely French restaurant in Le Marais, a historic district in Paris. At the request of the club's vice president education, I served as general evaluator. We met on an upper floor in a cozily lit room, and it was a leisurely meeting, lasting almost 2 1/2 hours with a break in the middle for dinner and wonderful red wine. This was France, after all. 
The 15 or so members in attendance, who spoke excellent English and came from a variety of other countries, created a highly interactive and inclusive meeting, punctuated by laughter and camaraderie. When I delivered my general evaluator report, I shared a story. While in Paris, I'd had two experiences related to turning on the sink water in the bathroom. (Many sinks there have foot pedals to do this.) The first time, while I was struggling to ­figure out how to get the water on, a stranger kindly showed me where to step. The second time, in the bathroom during the break at the Toastmasters meeting, I was able to help someone else who apparently was as clueless as I'd been. While I playfully demonstrated my story for the group, including hand and foot motions, I shared my own sense of humor. 
Peter is an amazing ­example of what's ­possible if we decide that age doesn't ­determine our ­opportunities.
I offered my compliments to the club. The members had made me feel so welcome; many had even given me advice about activities our family could enjoy while in Paris. I also offered the group a few suggestions for improvement. All feedback was warmly received.
One of the highlights for me was meeting club member Peter Kenton—a 91-year-old DTM. Peter grew up in New York and joined Toastmasters after a visit to California, where his brother invited him to attend a Toastmasters meeting. The chemical engineering company Peter worked for sent him to Paris in 1959, and he loved the city so much he never left. 
Peter eventually joined a Toastmasters club in Paris when he was in his 60s and earned his DTM when he was 73. He belongs to three clubs in the city and has given speeches in English, French, German and Hungarian. Peter is an amazing example of what's possible if we decide that age doesn't determine our opportunities.
No matter where we go in the world, when we are with other Toastmasters we are part of the same family. I encourage you to find a club on your next travel adventure, and if that happens to bring you to the Portland, Oregon, area, we'd be delighted to welcome you to our club, Toastmasters for Speaking Professionals. Don't let the name scare you: All visitors are welcome, speaking professionals or not, and we have as much fun and as many laughs as any club I know!
Linda Cohen, ACB, ALB is a ­member of Toastmasters for Speaking Professionals in Tigard, Oregon. The author of 1,000 Mitzvahs: How Small Acts of Kindness Can Heal, Inspire and Change Your Life, she speaks to associations and businesses on how to cultivate a culture of kindness. Learn more at lindacohenconsulting.com
Toastmasters - Paris Speech Masters full Article
Full Article in PDF Version
Toastmasters Paris Speech Masters France
Adobe Acrobat Document 350.4 KB